Servings
5 persons,
Preparation time
15 minutes,
Cooking time:
60 minutes
Ingredients
800 millilitres of chicken or vegetable stock, preferably organic
2 tablespoons of olive oil
4 rashers of smoked streaky bacon or pancetta, chopped
1 fresh bay leaf
2 small red onions, peeled and halved
2 carrots, peeled
2 sticks of celery, trimmed
½ of a fennel bulb
3 cloves of garlic, peeled and finely chopped
1 small bunch of fresh basil, leaves picked and stalks finely chopped
2 x 400 grams of tins plum tomatoes
125 millilitres of red wine
2 small courgettes, quartered and sliced
200g spinach, washed
400 grams of cannellini or borlotti beans (tin), drained
50 grams of mini pasta shapes
sea salt and freshly ground black pepper
20 grams of freshly grated Parmesan cheese, to serve
extra virgin olive oil
Directions
Start by bringing the stock to the boil in a small saucepan on a high heat, then reduce to a very gentle simmer
Make sure the stirrer attachment is in place in the HomeCooker pan, then set the temperature to 175°C.Once the pan has heated up, add the olive oil, bacon and bay, then set the timer for 7 minutes to fry the bacon.
Sit the Cutting tower alongside the HomeCooker with the coarse grater in place and switch it on. Run through the onion, carrot, celery and fennel into the pan (if you don't have a Cutting tower, simply finely chop by hand).
Add the garlic and basil stalks, put the lid on slightly ajar and reduce the temperature to 130°C. Set the timer for 20 minutes, so the vegetables get soft but not coloured.
When the time's up, add the tomatoes, red wine and courgettes to the pan and set the timer for another 15 minutes.
Pour in the hot stock and add the spinach, beans and pasta (you could also use up all those mixed, broken bits from the end of pasta packets here – simply place your pasta in a small sandwich bag or wrap it in a tea towel and smash it up with a rolling pin before adding to the soup). Set the timer for a further 15 minutes.
Check the soup and loosen with a splash of water if needed, then season to taste. Ladle between bowls, sprinkle over the basil leaves and grated Parmesan, drizzle with a little extra virgin olive oil and serve.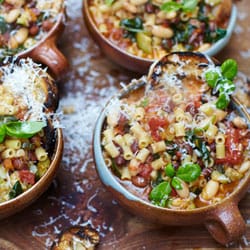 Our site can best be viewed with the latest version of Microsoft Edge, Google Chrome or Firefox.