Troubleshooting
The performance of Philips AquaTrio Pro has decreased
If the performance of the Philips AquaTrio Pro has decreased, this can have several causes:
The appliance has not been flushed
We advise you to flush the appliance after every use to prevent dirt from accumulating and bacteria from growing inside. If you do not flush the appliance after every use, this may lead to an unpleasant smell.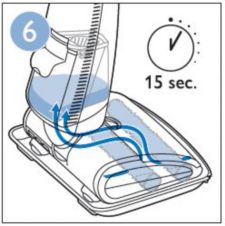 The inside of the mopping nozzle is too dirty
You can clean the inside of the mopping nozzle and the mopping nozzle lid with a damp cloth.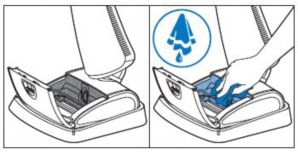 The mopping brushes are too dirty
The mopping brushes are cleaned when you flush your AquaTrio Pro after use. If the brushes are still dirty after flushing, you can remove them from the nozzle and clean them with warm or cold running water.
Cleaning instructions:
Lift the mopping brushes out of the mopping nozzle by their lime green grips.
Clean the mopping brushes by rinsing them with running water. If you want, you can use a liquid household cleaner or some washing up liquid.
Put the mopping brushes on the clean mopping brush cover to dry.
Replace the brushes. Make sure the mopping brushes are dry when they are placed into the appliance. If they are not dry, the active protection system may be activated when you switch on the appliance because the brushes encounter a too heavy resistance due to still being too wet.
Note: The mopping brushes are not washing machine-proof.
If the above solution(s) did not help to solve your problem, please contact the Philips Consumer Care Centre in your country.