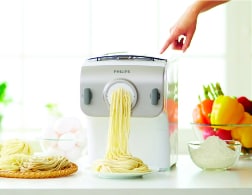 Sydney, Australia - Royal Philips (NYSE: PHG, AEX: PHI) has made the experience of preparing quick, healthy meals in the convenience of your own home even easier with the new Philips Pasta and Noodle Maker (HD2357/06), a delicious way to make fresh pasta and noodles within minutes[1] your own way from scratch, without all the mixing and rolling.
"We understand preparing a sumptuous and healthy homemade meal can be challenging, especially when Australian parents are working longer hours in the office and at home than mums and dads in other countries[2]. To accommodate parents being time crunched, Philips designed the Philips Pasta and Noodle Maker as a fast and easy way for families to make healthy food choices creating fresh, unique and wholesome dinners with a variety of ingredients at home," says Sanjay De, Marketing Director, Consumer Lifestyle for Philips Australia.
If you love to experiment in the kitchen with Italian or Asian cuisine, the new Philips Pasta and Noodle Maker is a kitchen appliance essential. All you have to do is throw in flour, press buttons and pour liquid. The maker mixes, kneads and extrudes fresh homemade pasta or noodles. Also the powerful 1600lb extrusion force can help create great texture and taste for perfect pasta or noodles at your fingertips[3].
| | |
| --- | --- |
| The Philips Pasta and Noodle Maker includes four different shaping discs to create your favourite type of pasta or noodles for a classic Italian dish or an exotic wok creation. It provides a spaghetti/thin noodle version, a penne, a fettuccine/ban mian and a lasagne/dumpling skin disc. | |
The appliance also offers a Chinese noodle kit for making angel hair and flat wide noodles and a Japanese noodle kit for making udon and ramen that can be purchased separately at selected retail stores.
Do you prefer to add a unique twist adding your own personalised flavour combination to your favourite dish? The Philips Pasta and Noodle Maker is a great way to experiment with flavoured pasta or noodles by adding a variety of ingredients into the mixture such as carrot or beetroot juices, fennel, thyme or mixed herbs. The different types of ingredients can also give everyday meals like the power lunch salad a boost of colour and added texture.
| | |
| --- | --- |
| Accompanying the Philips Pasta and Noodle Maker is a colourful recipe book providing 24 different types of pasta and noodle flavours for over 20 dishes. The recipes offer inspiring flavour combinations for mouth-watering dishes like miso ramen and spicy seafood Singapore noodles. Or for a romantic Italian meal without the kids prepare fennel and pepper infused pasta squares for ricotta spinach ravioli with sage butter. Or perhaps you are in the mood for tagliatelle al pesto or salmon fillets and asparagus on a bed of soba noodle salad? | |
| With a convenient storage drawer for shaping discs and cleaning tools, the Philips Pasta and Noodle Maker comes with an RRP of $339 and is available at major department stores, leading electronics stores and from selected authorised dealers. | |
---
[1] Approximate timing for 2 servings with 5 minutes of kneading time
[2] http://www.news.com.au/lifestyle/parenting/australian-parents-work-harder-than-mums-and-dads-anywhere-else-in-the-world/story-fnet085v-1227133178221
[3] https://www.philips.com.au/c-m-ho/pastamaker.html