Sydney, Australia – Philips has released a premium desktop dock for your iPad, iPod or iPhone that also works as an alarm clock, waking you with your favourite song or radio station.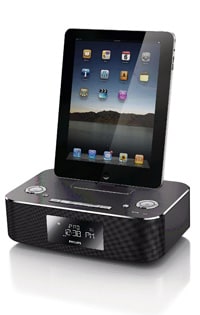 The Philips DAB docking system (DCB291) combines great quality sound with an elegant and compact aluminium design and brings out the best in music from your own playlist or from your favourite radio station. Compact enough to serve as a desktop or bedside alarm clock, the docking system's Neodymium speaker driver ensures that whether you are working hard or waking from your sleep, you can enjoy a crystal clear listening experience.
DAB and FM compatibility offers access to an enhanced radio experience, with a greater choice of channels and clear and crackle-free audio. DAB+ technology means there are no frequencies to remember and sets are tuned by station name and there is no retuning needed.
You can choose to wake up to your favourite music, radio station or buzzer alarm. A 'gentle wake' function also allows you to gradually wake up as the alarm volume progressively increases from subtly low to reasonably high in order to gently rouse you. In addition, you can set different alarms for weekdays and weekends to make sure you are not rudely awakened during your weekend sleep-in.

Connecting your iPad, iPhone or iPod to the dock will automatically synchronise the clock of the docking system with your device within a few seconds.  A smartly designed spring-loaded docking port effortlessly accommodates any generation of iPhone or iPod without needing special adaptors and with most protective cases on. Simultaneous playing and charging of your iPod, iPad or iPhone keeps you on the go.
MP3 link connectivity allows direct playback of MP3 content from portable media players – all you have to do is plug it directly into the system through the MP3 link connection.
iPad compatibility
Compatible with: iPad
iPhone compatibility
Compatible with: iPhone, iPhone 3G, iPhone 3GS, iPhone 4
iPod compatibility
Compatible with: iPod touch, iPod touch 2nd Generation, iPod touch 3rd generation, iPod touch 4th generation, iPod nano 1st Generation, iPod nano 2nd Generation, iPod nano 3rd Generation, iPod nano 4th Generation, iPod nano 5th Generation, iPod nano 6th generation, iPod mini
Price and Availability
The Philips DAB docking system DCB291 is available now at leading retailers at a recommended retail price of $249
For further information about Philips products, visit www.philips.com.au.