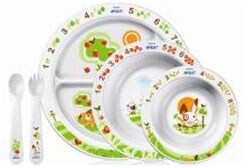 Sydney, Australia – Philips AVENT, a leader in parenting and baby products, is introducing a new mealtime range to provide greater ease and convenience to parents of toddlers.
Tailored for toddlers between six and 18 months, the range features fun, story-telling designs that encourage child engagement at mealtimes through stimulation and interactive learning, helping a child progress through weaning to toddler self-feeding.
The range includes a series of creatively-designed bowls, plates and utensils, developed with leading child psychologist Dr Gillian Harris from the Children's Hospital, Birmingham, UK, and leading dietitian and nutritionist Judy More.
"Weaning is an important process as it determines the foods that will be accepted and eaten later in childhood and into adulthood. It's also a time that can cause much anxiety for parents, often leading them to look to their health professional for advice," said Dr Gillian Harris, Consultant Paediatric Psychologist and an expert in child feeding behavior.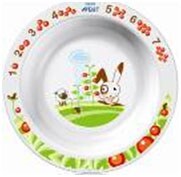 "The challenges of trying to prepare tasty and nutritious foods while getting the little ones to sit still and eat can make mealtimes something of a chore," said Muir Keir, Senior Customer Marketing Manager, Philips Consumer Lifestyle, Australia and New Zealand. "This new range offers a practical, every day solution to make mealtimes fun and enjoyable across the first years of a child's life, and help them develop positive associations with healthy eating from an early age."
Innovative Tools to make Eating Fun
Developed following years of research into how young children acquire taste and food preferences, the new range incorporates bright and vivid shapes and numbers in the design to stimulate learning. The design features a rabbit character and its friends, allowing parents to weave stories based on these characters that will help teach skills of counting and colour recognition, while at the same time keeping children focused on their plates. The bowls and plates feature easy-scoop sides and an anti-slip base, making it easier for toddlers to learn to eat independently.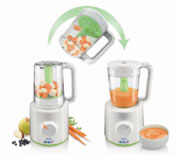 The mealtime range comes in different sizes for toddlers of different ages. Not only can the products in the range be sterilised, they are dishwasher-friendly, microwave-safe and BPA-free, making them safe and easy to use and clean.
To complement the mealtime range, the Philips AVENT Combined Steamer & Blender SCF870/21 helps parents whip up creative and nutritious dishes for young toddlers with recommended recipes provided by Philips AVENT.
Specially designed for the preparation of home-made baby food, this easy-to-use appliance cuts down on time needed to prepare and blend food, as well as clean its various components. With food preparation at home made simple, easy and efficient, parents can look forward to fun and healthy mealtimes for their toddlers.
Availability
The products are available now from selected baby stories and pharmacies.